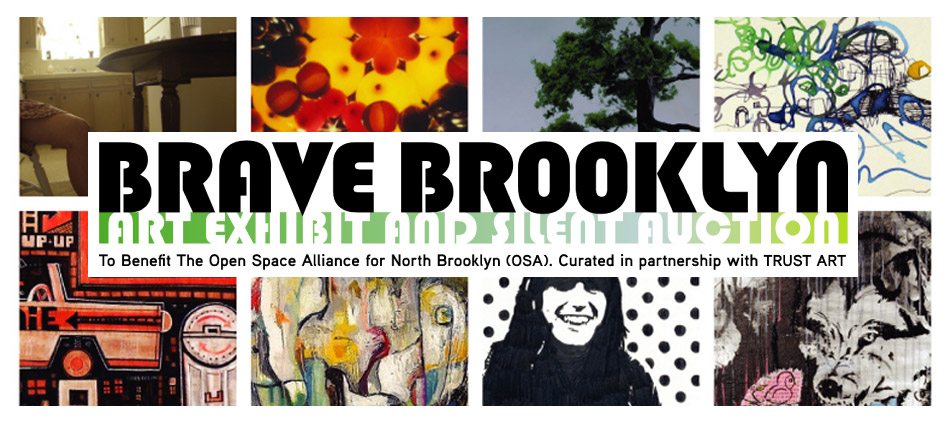 FOR IMMEDIATE RELEASE
The Open Space Alliance For North Brooklyn in Partnership with Trust Art Proudly Presents:
BRAVE BROOKLYN: Art Exhibit & Silent Auction
BROOKLYN, NY (November 2009)—Brave Brooklyn, presented by the Open Space Alliance for North Brooklyn (OSA) and curated in partnership with Trust Art, Outside the Time Zone and the Shiny Squirrel draws from the pioneering spark of artists who first moved to Northern Brooklyn over thirty years ago. The exhibition is inspired by the community's artistic spirit, a vibrant and contemporary arts scene that continues to thrive and grow in Williamsburg and Greenpoint.
The artists featured in the exhibit utilize a range of visual and mixed media, and hail from across the country and the world, finding their homes in Brooklyn. This event provides a platform for them to share their work in an effort to cultivate community interaction and dialogue.
Julia Morrow, the Assistant Director of OSA, directs attention to the ongoing potential of such an artistic environment: "The neighborhood's talent and willingness to share its creativity in public space not only improves our neighborhood aesthetically, but can potentially raise funds for future park initiatives that require our support and attention."
Among the twenty-eight pieces of artwork that will be exhibited and included in the silent auction to benefit OSA is that of preeminent sculptor, Richard Serra and mixed medium artist, Fred Tomaselli. Other participating artists include: Bradly Brown, James Case Leal, Ryan Goolsby, Weston Woolly, Emily Goode, Suzanne Zwicky, Gidalya Tashman, Karl Metz, Adam Taye, Chris Burnside, James Woodward, Robbert Jan de Oude, Sam Martineau, Lizzy Wezler, Matt Jones, Jacqueline Schmidt, Jesse Witkin, Kris Graves, Nathan Koch, Karen Bausman, Molly Surno, Skewville, Anne McClain, Dave Olsen, Facundo Newbery and Cassie Thornton.
Brave Brooklyn will be open to the public for an opening reception December 4th at 6pm. Viewing hours will be Saturday – Sunday, 12-5pm, Monday – Friday 4-7pm. The gallery is locatedat 30 Nassau Avenue at Dobbin Street in Williamsburg. There will be closing reception held on Dec 11th at 6pm and bids can be made at bravebrooklyn.com after November 20th, 2009 or at both the opening and closing receptions.
For information about the exhibition and artist bios, visit www.bravebrooklyn.com.
Media inquiries and accreditation for the press preview, contact Julia Morrow at Julia@openspacealliancenb.org.
The Open Space Alliance for North Brooklyn is a not-for-profit that works with the community to further the restoration and preservation of existing parks as well as the development of new parks and cultural programs in North Brooklyn. www.openspacealliancenb.org
Trust Art is a social platform that invites people and communities to participate in the realization of ambitious and inspirational public works of art. www.trustart.org